3 tags
2 tags
Blacksoup
There's something in the sound of one cut-off, expectant trilling That beckons pain to the forefront of the imagination; like an emerging emergency. An ambulance cry, a consummate darkness strangled dispassionate mercy moan, a singly inconsequential and utterly bewildering meaningless reminder of twenty-two seconds of heat for a single cup of obsequious good-natured bravado for the...
2 tags
Unstick
He asked me for passion I gave him compulsion                    complication    Swallow it down         in finely vibrous                      viscant                   conducant                contractive              inanimalate           animystic Full-on contempt.                           Bend or break We only live to bend                                     or...
5 tags
3 tags
"Do you consider yourself an honest man?"
"I've never once considered myself to be anything at all."
1 tag
A Crushing
How you want to deal with life is completely up to you and how I deal with life is completely up to me. We can all keep to our business or we can question the motives of every passerby and wonder what it's like to be infinite.
1 tag
DNR
Creation   does not exist      without Love. The act of defiance—              Immortal invocation         sweeping rampant;              is not a  lost  Art—           does not exist               without Sacrifice. Our bones and Our      winter Heatwave          decadence       allows empty shells               in empty chambers               of empty firecracker...
1 tag
broken Journey
What one discovers     when searching,         Set apart from what's               found on the sly;    Unrelenting in how         all these truths are uncovered               R e vealed for what they                     meant only to hide. I wantnotto know   And I wantnotto care       For unease is a burden           I wishnotto share—   But if glances at cracks         in foundational...
Little Games Big Business
picsvics:
1 tag
2 tags
"You don't know anyone at the party, so you don't want to go. You don't like..."
– Julien Smith.   (via blua)
2 tags
Haiku for the Modern-Day Anarchist
Join my heresy— follow not authority nor majority.
2 tags
(once)
If I had closed my eyes     for a single second          (One full second)     I'd've killed us both. These limits that I'm pushed to                           (My body                                  cannot overcome.)     are atypical; immoral in consequence. I cannot vaguely sweep away     the dust collected on my eyelids     only to, time and again, dislocate ...
"On March 13, 1995, in the small Scottish town of Dunblane, a..."
– The New Yorker: "Guns and the limits of shame" (via lauraolin) I remember. Mostly, the people in the UK felt that not having things like this happen was a good thing. I wish these massacres would persuade the American voting public of the same thing. (The UK had 14 Firearm-related murders last...
Calvin: Isn't it strange that evolution would give us a sense of humour? When you think about it, it's weird that we have a physiological response to absurdity. We laugh at nonsense. We like it. We think it's funny. Don't you think it's odd that we appreciate absurdity? Why would we develop that way? How does it benefit us?
Hobbes: I suppose if we couldn't laugh at things that don't make sense, we couldn't react to a lot of life.
Calvin: (after a long pause) I can't tell if that's funny or really scary.
2 tags
2 tags
Mephistopheles. Consider well your words—we'll not forget them. Faust. Nor should you! What I've said is not presumptuous blasphemy. If I stagnate, I am a slave— why should I care if yours or someone else's? ~ Faust, by Goethe
3 tags
Boseifus
My cat, Boseifus, I've finally come to realize, is not aware of his own being. He's spent his whole life shying away from the touch of Others, because his Self is alien to him. He rarely blinks, never meows; Doesn't clean himself. He licks his brother Who, in turn, cleans him. He eats until he's sick to prevent the feeling of hunger Which makes...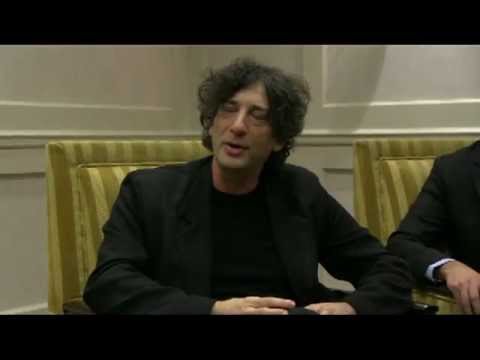 5 tags
Manifesto for a Better Existence
Stop. Right there. Ask yourself: "What drives me?" What motivates you to act as you do?  Is it the good faith of your consciousness that drives you to help someone in need?  Are you driven by an end-reward: a heaven or nirvana that one reaches upon transcending this world?  When you steal, is it from a need to fulfill your own base desire; or is it to prove to the world around you...
5 tags
"I sometimes think of what future historians will say of us. A single sentence..."
– La Chute (The Fall) by Albert Camus, circa 1956 Half a century later; some things change… and others don't.
3 tags
"I have seen and I know that people can be beautiful and happy without losing the..."
– Fyodor Dostoevsky (via fuckyeahexistentialism) Relevant. I'm reading Notes From Underground right now. Dostoevsky was a great precursor to the works of Sartre and 20th-century Existentialism in general.
2 tags
4 tags
"Despair is the common condition of individuals, even those who are unaware that..."
– Linda Patrik, summarizing Soren Kierkegaard's concept of Despair seen in Fear and Trembling
3 tags
3 tags
(are we)forgiven
Does it shine through? Does my belief,     my unending questioning     and absurd relief,  ever break past the fog of inequity  between you and I;              between souls? No. No, it does not matter what you say in this moment.       For this Time does not link us. There is no   continuation of thoughts and doubts for you            to express as you will.                  Please...
"It seems to me that a painter has a duty to try to put an idea into his work. I..."
– Vincent van Gogh (via fuckyeahexistentialism)
Rollin' socks and drinkin' a beer; As the sun is rising. I shouldn't be in college much longer.
"Poets! If i grabbed one of them by the back of the coat, if I told him:..."
– Antoine Roquentin, from Sartre's Nausea
3 tags
#602 on the list of 1,000 Things I Love
Stunning new revelations. I realized earlier tonight that smoking hookah through your nose clears up the sinuses.  Or else I'm going crazy.  Either way, it's pleasant to think that random experimentation will never cease to amaze.
3 tags
1 tag
Continuation
And suddenly, there is nothing left worth saying. There is not a word in this vast ocean of discourse that can handle the immense dissatisfaction. Confusion between past and present has nothing to do with it—indeed, time is not being discussed at all; History has little meaning in or out of context on this scale of minutia. At this precipice of wanting and feeling, there is emptiness with no...
3 tags
"This is what fools people: a man is always a teller of tales, he lives..."
– Antoine Roquentin, from Jean-Paul Sartre's Nausea (translated by Lloyd Alexander)
4 tags
3 tags
1 tag
It's really odd when you realize you have no one. There is no "back-up".